PA Sport
Published: 12th January 2017
By AM FREE Racing Tips
PA Sport
Gemma Tutty is hoping the racing community will rally round in her fundraising efforts to help former weighing-room colleague Laura Barry in her battle with cancer.
Tutty set up a gofundme page, which only went live on Monday evening, with a target of £30,000.
Just over 24 hours later, the figure had reached £23,000 from less than 400 donations, but she believes there are many more racing-minded folk out there who are not aware of her friend's plight.
"It's been going OK but we want the word out a bit better. A lot of people aren't on social media," said Tutty.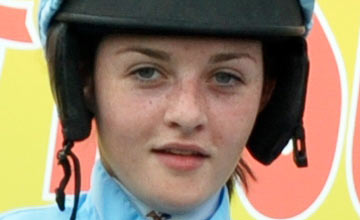 "Laura is in really good spirits and all the support she's been getting has given her a massive boost. She's been checking the page and can't believe all the generosity and nice messages.
"We had discussed the possibility of a fund from day one. It was demonstrated brilliantly by the Freddy Tylicki fund how the racing community can behind one of us in need.
"I believed that if people knew what was going on they would want to do something to help so it was only a matter of time. We were just waiting until we had more information.
"I just picked £30,000 out of thin air. Where do you start? Nothing has been priced up. She's going to need a lot of money so the more we can raise the better.
"I didn't want to name a silly target and get nowhere near it."
Barry has been in Wellington Private Hospital in London for a month and is likely to remain there for at least another month.
A former apprentice with Richard Fahey, Limerick-born Barry started suffering pain in her left leg last year.
She was diagnosed with a rare and aggressive form of cancer that attacks the nerve ducts. Although that tumour was treated, a second tumour was discovered in November.
The 24-year-old was operated on in December but has been left paralysed from the hip down in her left leg and still needs chemotherapy to try and prevent the cancer from returning.
With no chemotherapy available in this country, Barry may have to go abroad for treatment and that costs money.
"At this moment in time, chemotherapy is looking the most likely the next barrier to pay for, but we don't actually know that yet," said Tutty.
"There isn't chemotherapy specific to her tumour over here so we are looking at Germany for proton beam therapy.
"Her father has been paying for a lot of medical expenses. I imagine he'll have a lot of costs and he's off work, so he's in a very difficult position financially for the immediate future.
"He's staying in a hotel and goes to the hospital to see Laura every day.
"She will be in hospital until she has chemotherapy, but there is no concrete plan as to what they think will happen at the moment. She'll be in there for at least a month, I'd say.
"The family has paid out a lot of money. The Injured Jockeys Fund has been helping but when you're not in a National Health hospital the costs can be extortionate.
"When she was in Leeds I stayed in a bed right next to her and it was like having a sleep over, but in London it's £150 if I want to sleep on the sofa in her room.
"The price of a specially-adapted car, renovating the house, wheelchairs and rehab for the future – you can't put a figure on it. All we can do is to raise as much money as we possibly can. It's not going to be wasted.
"We've got other ideas in the pipeline down the line for fundraising but we'll push the page as far as we can.
"A lot of money has been raised so far but only some 360 people have raised that. I'm sure that in the racing community there will be more who want to donate.
"It's just a case of getting the information, the story, the link and the opportunity to donate to them."